Easter at Gyle M&S
Egg-cellent Easter eggs
Give your Easter the eggs-factor with M&S's all-star line-up of chocolatey eggs and tasty treats. They're all available in store and are perfect for getting ahead for Easter or enjoying now!
Discover the full range in store now at Gyle M&S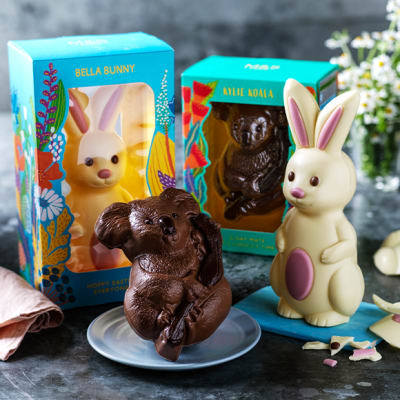 These are not just any Easter eggs…
These are the sweetest, cutest M&S Easter eggs! This year they've created a cast of chocolatey characters to help make your Easter extra special.
Don't miss Kylie Koala, £5, made from their exclusive-recipe creamy milk chocolate (always made with responsibly sourced cocoa) and hand decorated – almost too lovable to eat! White chocolate fan? Hop to it and pick up Bella Bunny, £5, made with creamy white chocolate.
The Percy-shaped egg is here!
Introducing this year's unmissable Easter treat: The Giant Percy Pig Egg, complete with jazzie trousers, £10. This berry-flavoured white chocolate hollow Percy egg is decorated with trousers made from our Jazzie sprinkles.
To make sure you have Percy as the guest of honour at your Easter celebration, pick up one of these perfect pink creations – as well as lots more tasty Percy Easter treats – in store now.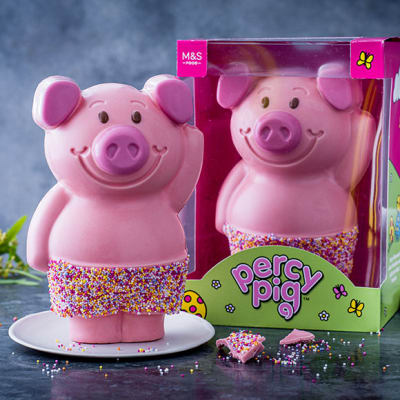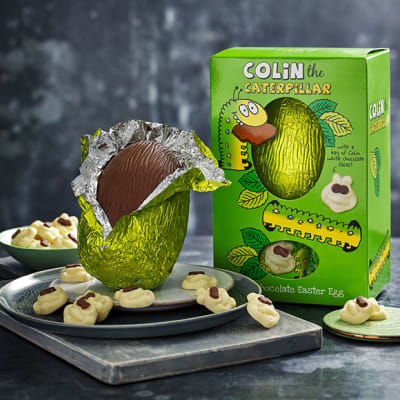 This year's most Colin-tastic Easter creation
If you're a fan of the iconic Colin the Caterpillar cake, you'll love their new Colin Easter egg, £5. A hollow creamy milk chocolate egg that comes with a bag of Colin faces – mini versions of the best part of the Colin cake, made from white and milk chocolate.
Pick up in store now for an Easter treat for you or the Colin obsessive in your life.
Discover Colin the Caterpillar
Say hello to the
Egg-Plant Kitchen Easter egg!
This is sure to brighten up your Easter – in all its aubergine-shaped glory! The new dairy-free and award-winning Egg-Plant Kitchen Easter egg, £6, is made with a velvety smooth dairy-free dark chocolate in a fun hollow aubergine (AKA eggplant) design.
Whether you're vegan or not, this is a seasonal must-try.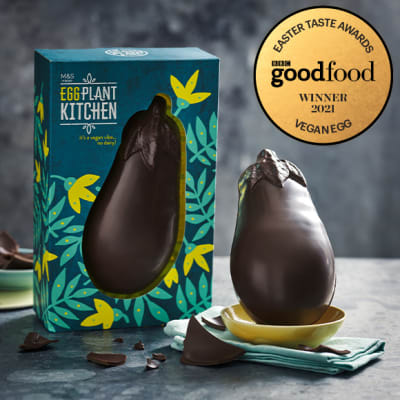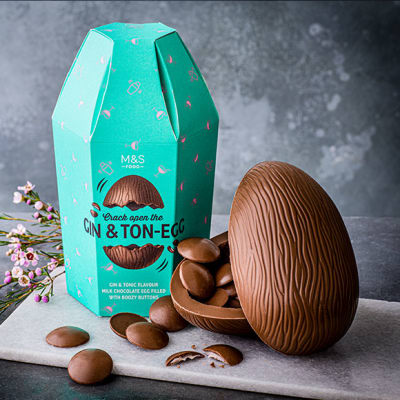 'Gin & ton-egg' o'clock?
Crack open the new 'gin & ton-egg', £5, to make happy hours extra tasty. This G&T-flavoured milk chocolate egg comes complete with boozy chocolate buttons – YUM!
Pick up the 'gin & ton-egg' in store or browse our online range.
The most decadent Easter eggs
Add a touch of luxury to Easter celebrations at home with the new Collection single-origin Easter eggs, both £15. Choose our Good Housekeeping Institute-approved 42% Vanuatu cocoa milk chocolate egg with exotic citrus and sweet fruity tones. The Good Housekeeping Institute said, "For the traditionalists who love smooth milk chocolate, this decadent egg is the one to buy. The M&S panel loved the deep roasted nutty flavour, picking up delicate butterscotch notes too. The accompanying buttery truffles are a great addition, with a ganache-like soft centre." Prefer dark chocolate? Try our decadently dark and vegan 85% Tumaco cocoa egg with subtle fruity and floral notes. Both eggs come in wow-worthy packaging – perfect for gifting – and are paired with rich truffles.
Find the Collection single-origin Easter eggs in store now.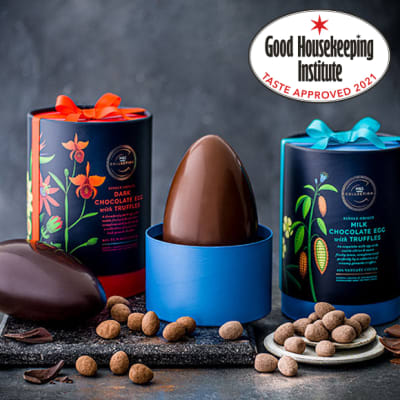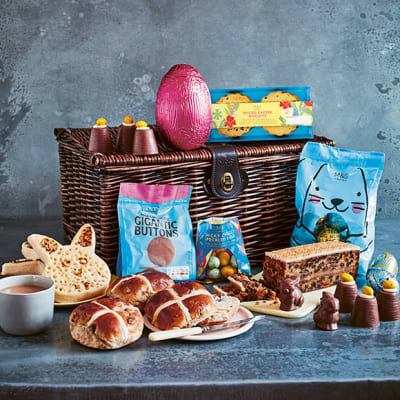 Easter treats, delivered to their door
Can't be together this year? Why not send a showstopping hamper to their door? Pull out all the stops with the Easter family hamper that's choc-a-block with award-winning hot cross buns, the creamiest chocolate eggs, all-butter cakes and so much more – guaranteed to keep everyone happy!
Discover the full range online now.