Easter Baking Activities – Whip up an Easter nest fridge cake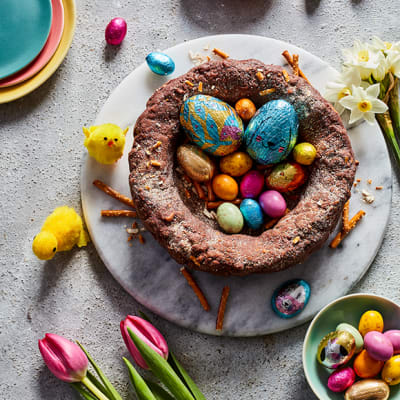 Whip up an Easter nest fridge cake
Looking for ways to keep little ones entertained? Try these simple recipe for a no-bake and truly delicious chocolate Easter nest filled with colourful chocolate eggs, which you can find in store at M&S Gyle.
100g butter
100g dark chocolate, chopped into pieces
100g milk chocolate, chopped into pieces
1 tbsp golden syrup
1 tsp vanilla extract
1 packet M&S salted pretzel sticks
1 packet M&S chocolate-coated salted caramel cookies
1 packet M&S milk chocolate sea salt fudge bites
1 packet M&S chocolate-covered raisins
An assortment of M&S chocolate eggs, to fill and decorate
Take a piece of baking parchment and scrunch it up in your hands, then smooth it out (this makes it easier to manipulate). Use it to line a 20cm frying pan.
Put the butter in a medium heavy-based saucepan. Cook over a medium heat, stirring, until melted. Add all the chopped chocolate and stir until smooth. Remove from the heat and stir in the golden syrup and vanilla extract.
Take out a handful of the pretzel sticks and set aside. Break and bash up the remaining sticks inside the bag with a rolling pin, and add these to the saucepan, saving a few crumbs to scatter over the nest later.
Bash up the cookies (in the pretzel bag, if it's still usable), then add to the pan. Chop the fudge bites into small pieces and add to the pan, along with the chocolate-covered raisins. Stir, ensuring everything is thoroughly coated in chocolate.
Transfer the mixture to the lined frying pan, pressing it up the sides with your fingers and the back of a spoon to produce a hollow nest shape. Scatter over the reserved pretzel crumbs to create a nest-like textured surface.
Refrigerate until set. Remove the nest from the fridge and fill with an assortment of chocolate eggs and the reserved pretzel sticks broken into twig-like pieces.