10 Spring New Look Dresses That Are Stylishly Sustainable
10 Spring Dresses That Are Stylishly Sustainable
Seeing as dresses are one of New Look's best-selling styles right now (fun facts: we've bought a total of 170,000 midi dresses since May 2020, 126,000 floral-print styles in the last year and, overall, dress sales went up on our site by 47% last month alone), they want to be certain that they're giving us plenty of options to shop dresses that are sourced more responsibly.
'How are they more responsible?' we hear you ask. Well, it's actually really simple. Some of their Kind dresses are made using less water and organic cotton, while other styles feature recycled fabrics or more sustainable materials. The best part? They are the same quality and the same amazing prices, only made in conditions that are good for the earth and the people who make them. Here they are…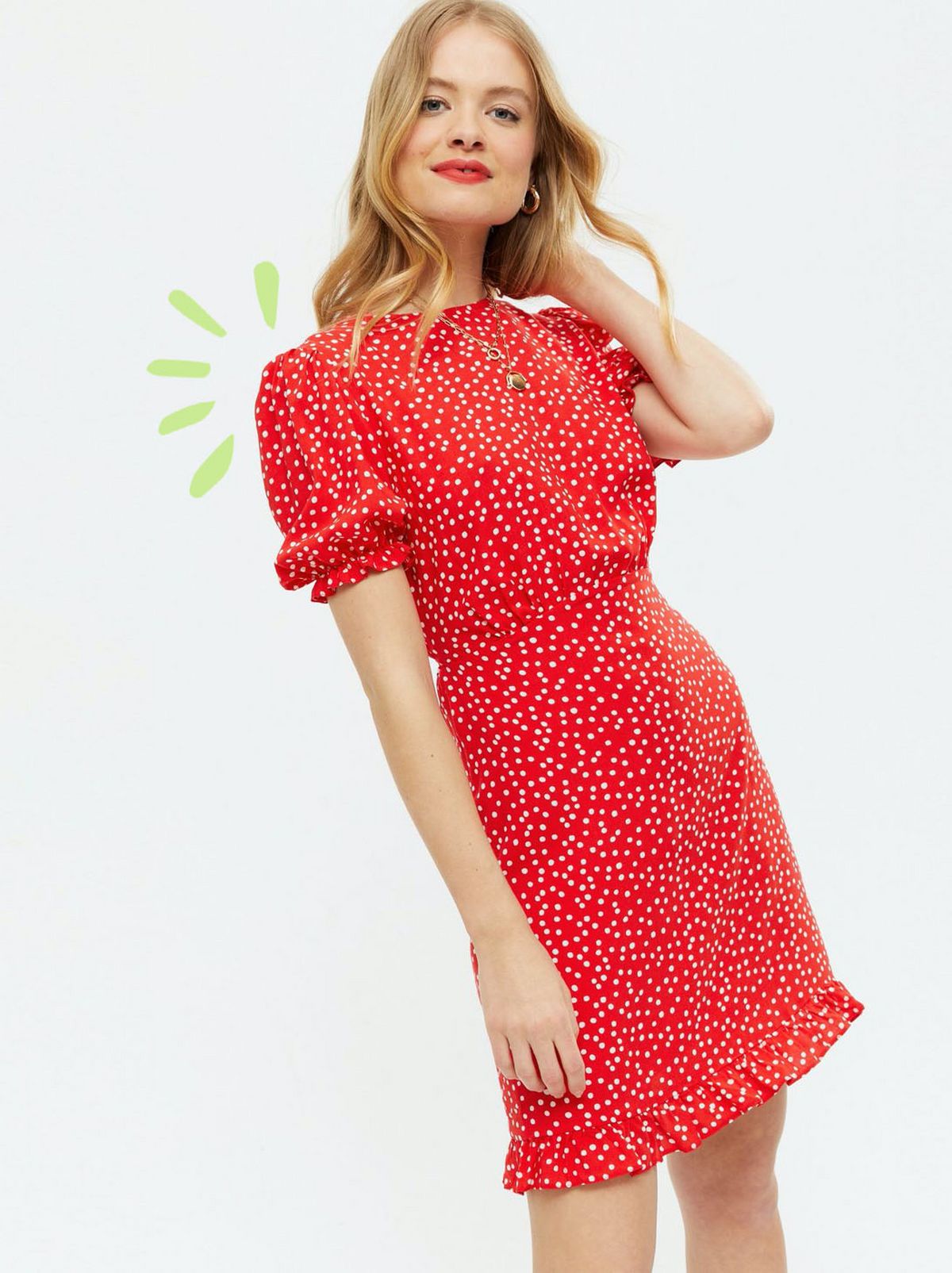 1. Red Spot Puff Sleeve Frill Mini Dress – £22.99
Looking for a statement style that won't cost the earth? Go for this red spot dress. Sourced from certified sustainable forests, it's more planet-friendly.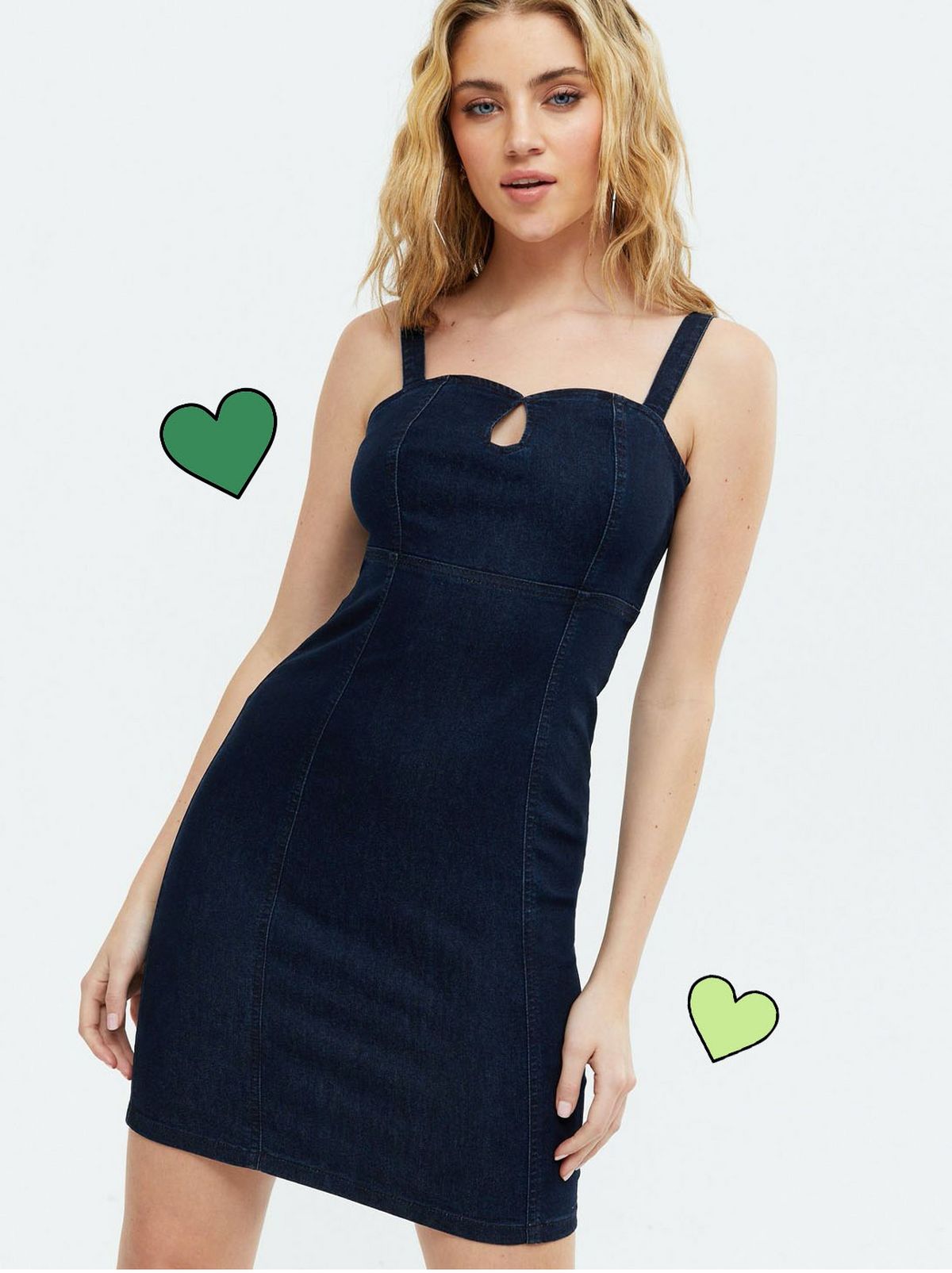 2.  Blue Rinse Wash Denim Keyhole Bodycon Dress – £22.99
It's time to turn to the biggest trend of the moment: denim mini dresses. Think sweetheart necklines, keyhole details, mini lengths and bodycon fits. Need another excuse to shop this style? It's sourced through the Better Cotton Initiative (supporting cotton that's better for the environment).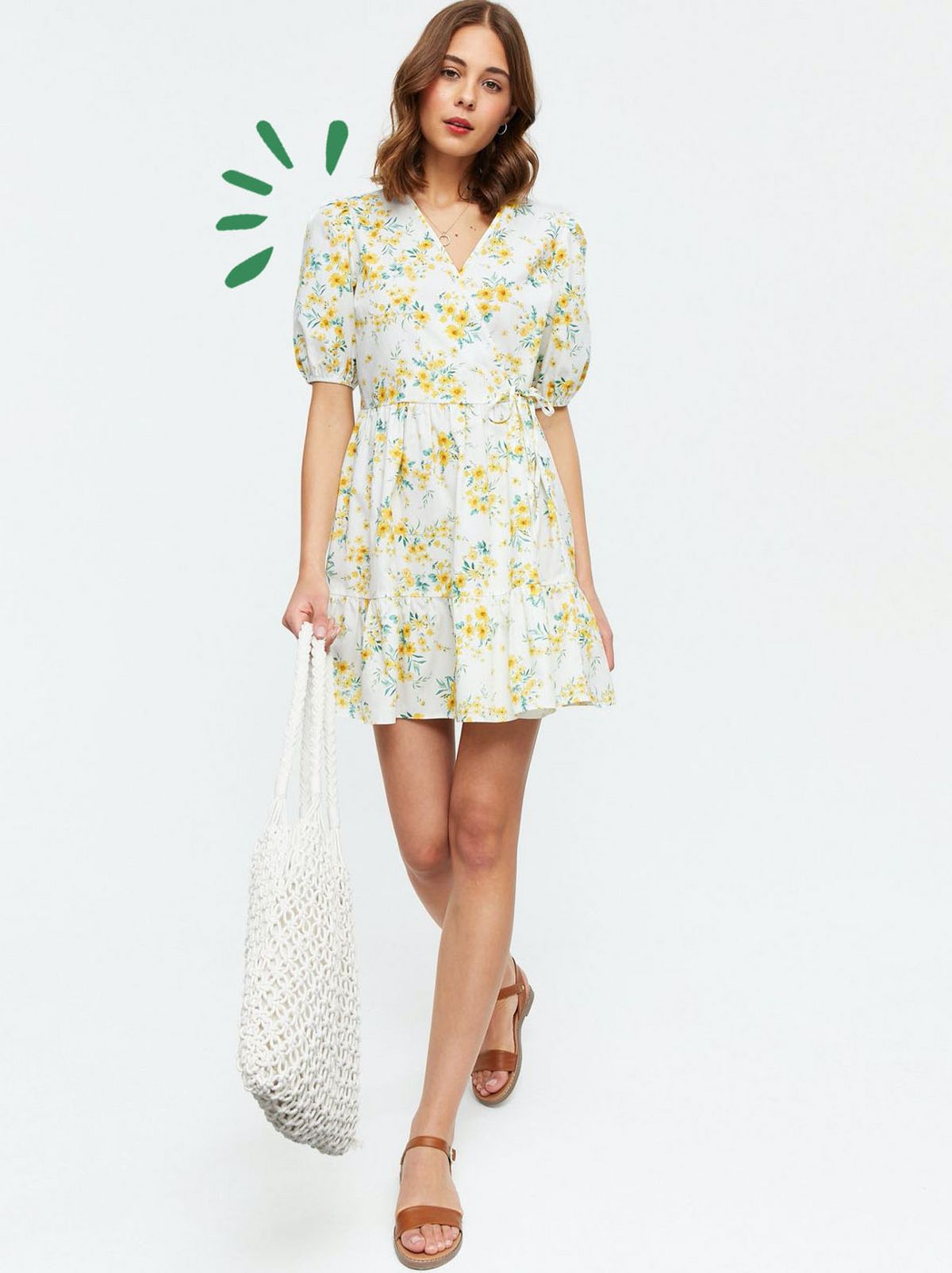 3.  White Floral Poplin Tiered Wrap Mini Dress – £25.99
If you thought that you were shopping planet-friendly cotton all along, you're not alone. It's easy to think that if it's a plant-based fibre (like cotton, for example), it must have sustainable qualities. Well, cotton farming uses harmful pesticides and fertilizers that infiltrates our ecosystems and poisons air but, being part of New Look Kind, this cotton mini dress is sourced responsibly.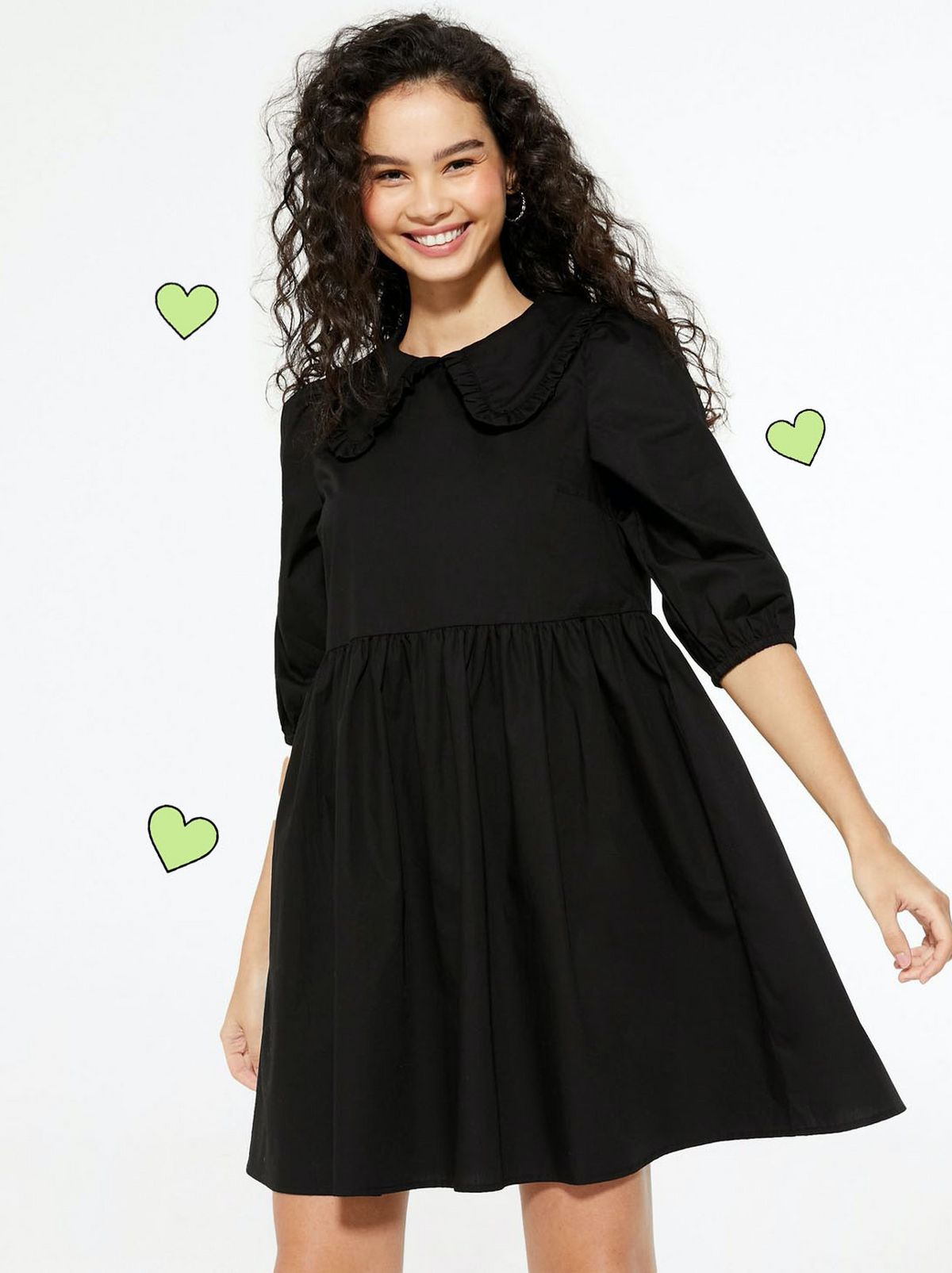 4.  Black Frill Collar Smock Dress – £22.99 £17.24
Pretty? Check. On-trend? Check. Made using better cotton? Absolutely. Dress up days call for this feel-good frilly smock.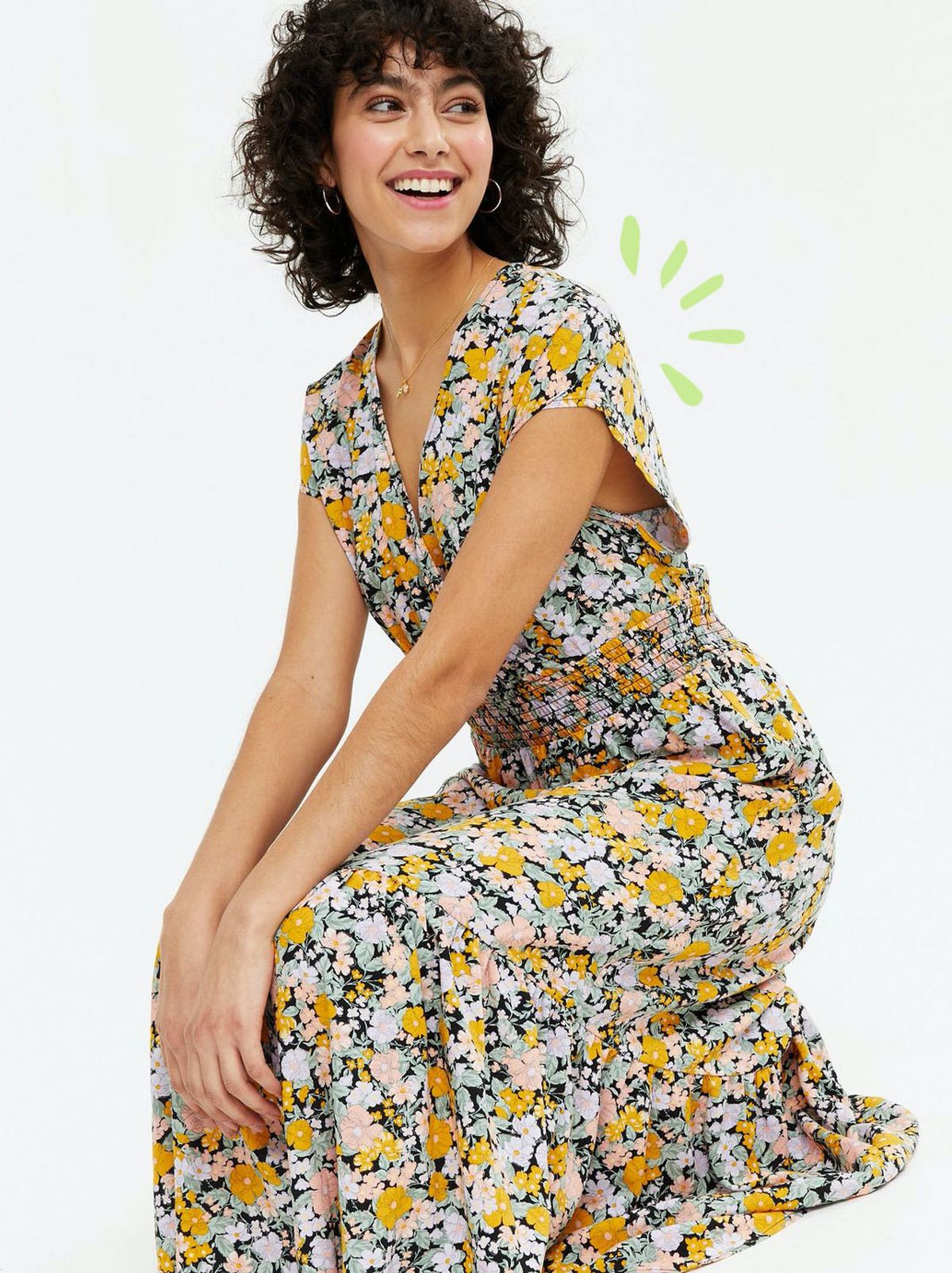 5. Black Floral Wrap Shirred Tiered Midi Dress – £19.99
Dress dreamy in mood-lifting florals. You'll love this wrap shirred midi because it has a shirred waist, tiered hem and more sustainable viscose fibres.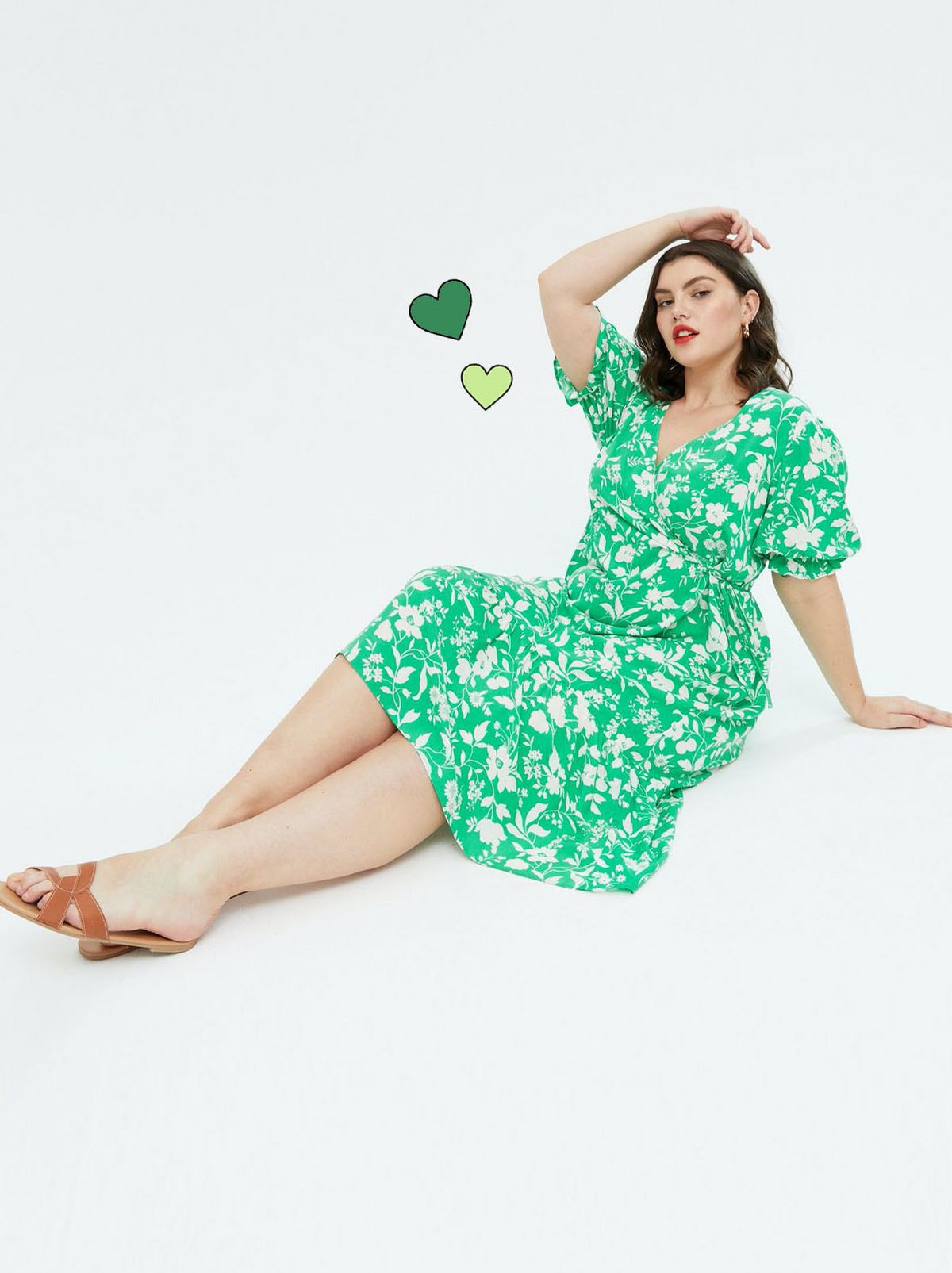 6.  Curves Green Floral Puff Sleeve Wrap Midi Dress – £27.99
You've met the floral wrap mini, now meet the floral wrap midi. Complete with side-tie details, short puff sleeves, and being part of our Curves collection, it's perfect for women who wear sizes 18-32. The unexpected bonus? It's cut from a fibre that is luxuriously soft and more sustainable.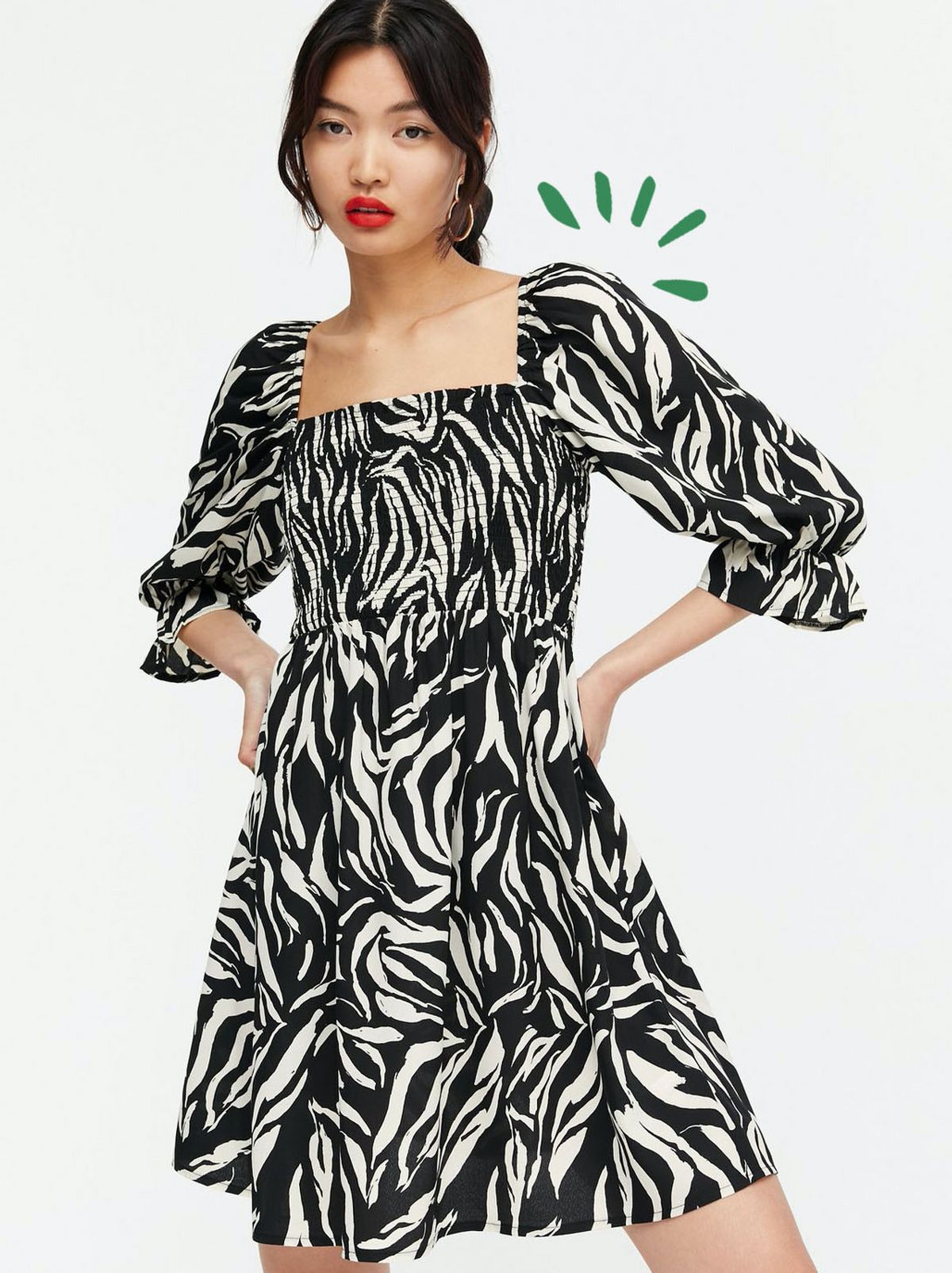 7.  Black Zebra Print Square Neck Smock Dress – £17.99
The best way to nail the monochrome trend more sustainably? With a zebra smock dress that's made from recycled polyester. Recycling polyester is important because, right now, globally, (approximately) 100 million barrels of oil are consumed per day. *raises eyebrows in shock*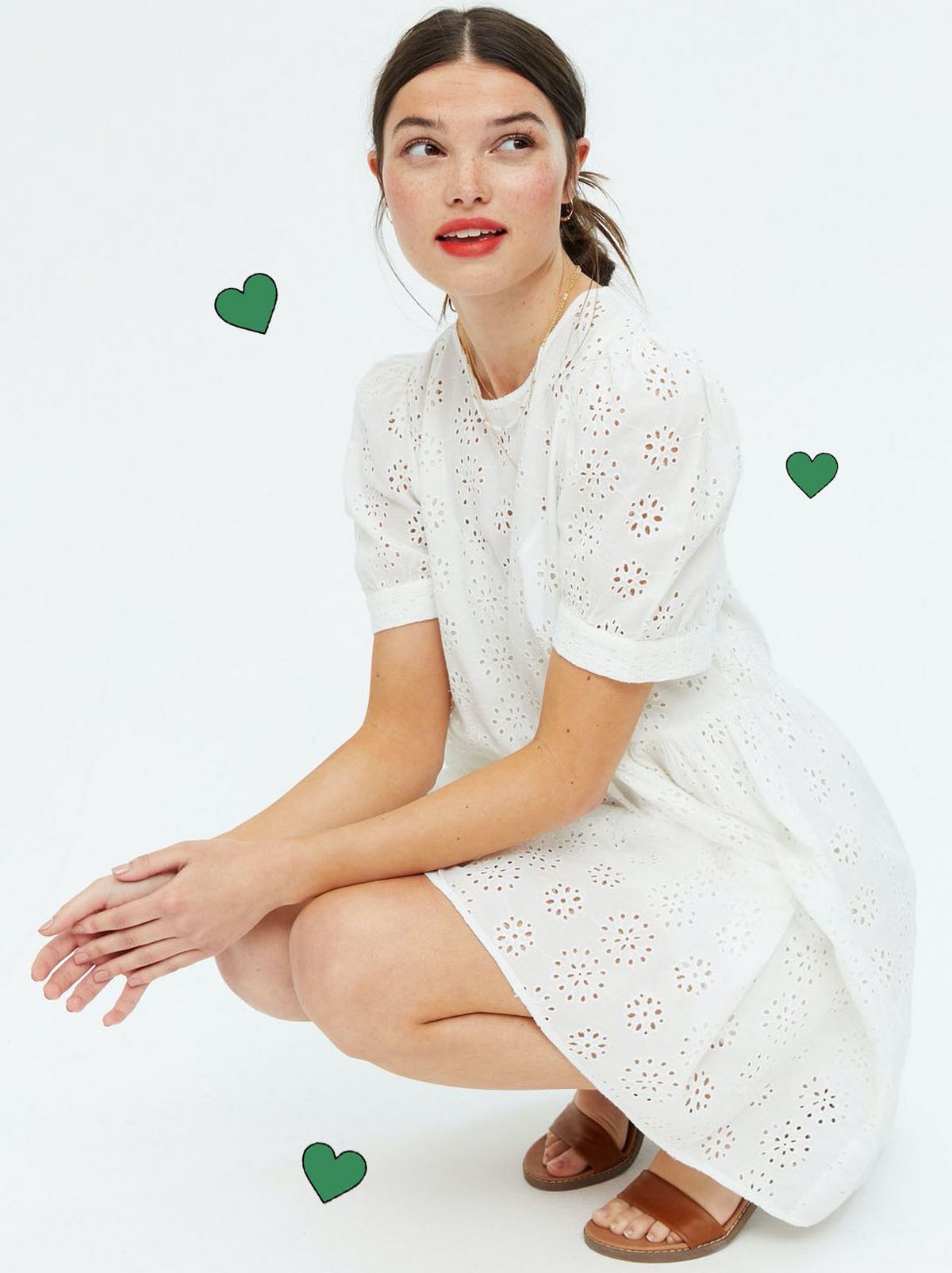 8.  White Broderie Smock Mini Dress – £27.99
Go all in on the delicate details with this smock mini dress. Qualities: rounded neckline, short puff sleeves, tiered hem, button-back fastening and better cotton.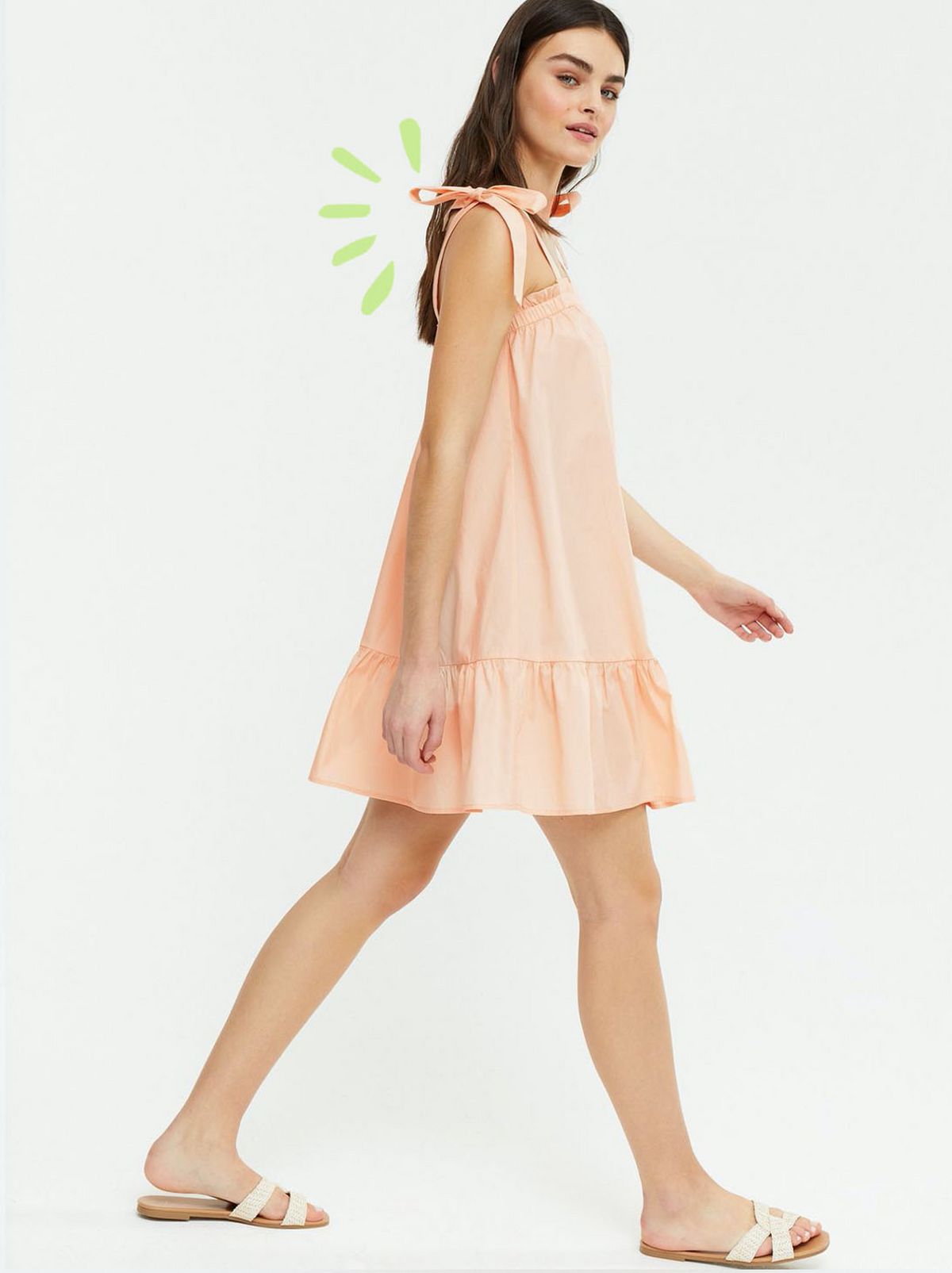 9.  Coral Tie Strap Tiered Mini Sundress – £15.99
Fact: warmer weather calls for a coral mini dress. So, why not opt for a style that features tie-detail straps, a square neckline and more sustainable cotton?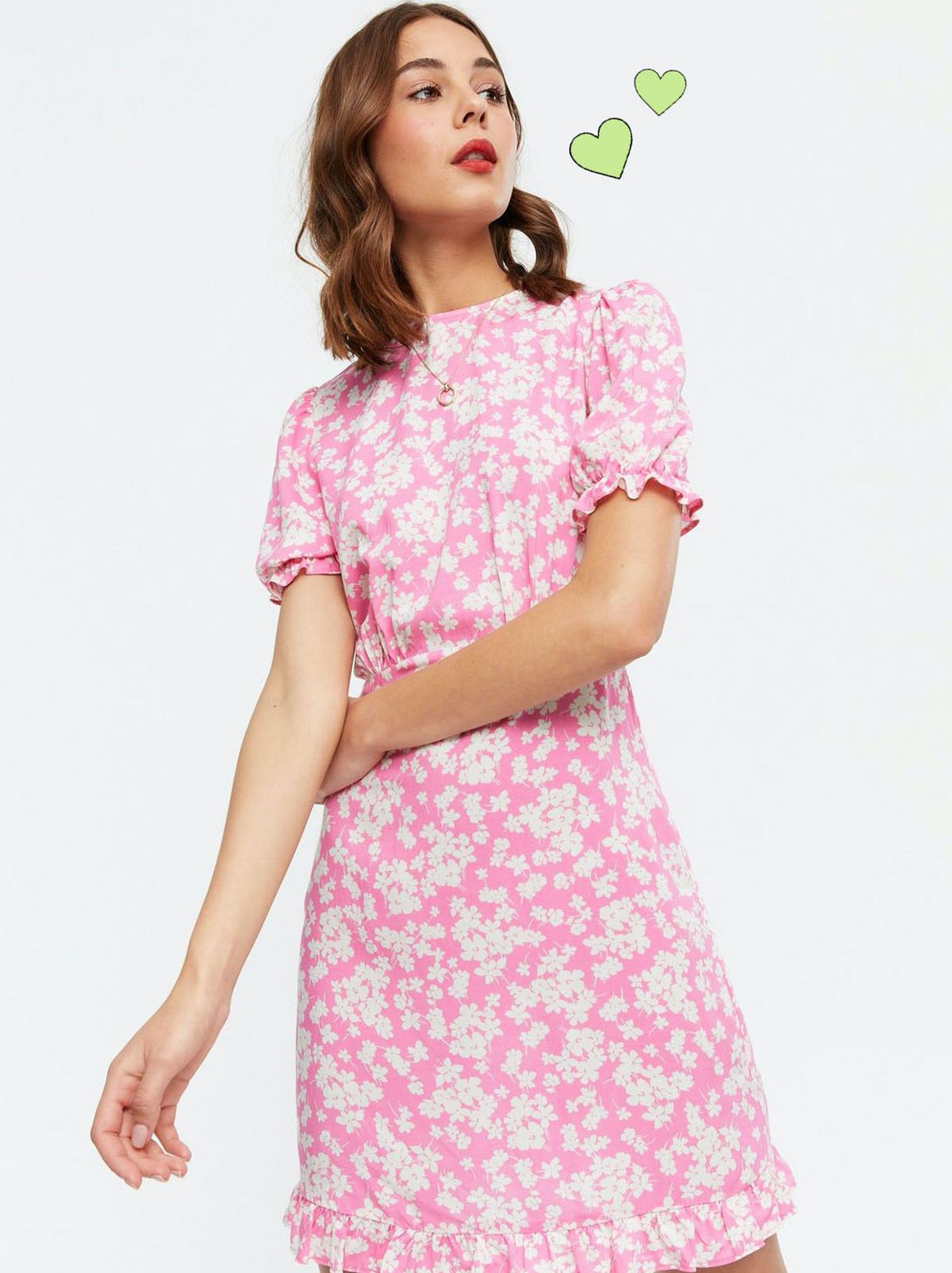 10. Pink Floral Frill Mini Dress – £22.99
For feel-good florals, look to this pink mini dress. Did you know that it's made using fabrics that are sourced from certified sustainable forests?